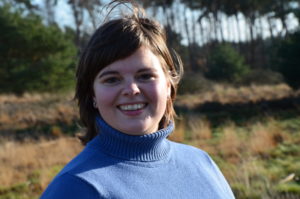 My name is Claudia Pasmans and I am a certified Dog Trainer and Behaviourist. I achieved this by successfully completing the 4-year Higher professional education program at DogVision in 2019. As a dog behaviourist I am accredited by the NVGH (Dutch Association of Behavioral Therapists for Dogs) and as a canine instructor I am accredited by the SPPD (Foundation Platform Professional Animal Behaviorists)
For a long time I have known I wanted to study the behaviour of animals and especially that of dogs.
Prior to my education at DogVision I graduated from the 4 year Secondary vocational education program Animal, Behaviour and Entrepreneurship. Here I learned about the behaviour of all kinds of animals. I also did several internships, during which I gained a lot of pleasant, educational practical experiences with different animals. This training period nourished even more my passion for dogs and motivation to grow in this field.
From an early age I grew up with dogs and started my fascination for the meaning of their behaviour. Different breeds with all a 'backpack' have had a home in our family: a German longhaired pointer, Whippet x Greyhound and Labrador Retriever. With this last dog I took my first steps in training dogs. This resulted in following an obedience and agility training, including corresponding competitions. At the moment I am the proud owner of a x Cairn terrier, again a totally different intriguing breed.
Trustworthy, honest and respectful interaction with each other, those are the words that describe me. This is also an important basis for your relationship with your dog. You have chosen your dog for a reason, assuming that a deep bond would result from this. Behavioural problems with your dog, such as falling out to other dogs, chasing cyclists or biting visitors, can worsen the relationship up to frustration for both parties. Or you are worried about your dog and do not know how to act now. It is a pity and not necessary.
Take the step to get the best out of you and your dog and enjoy every moment. With my help you will learn to understand your dog better and the dog you. By observing and analyzing I can determine what you both need and what fits best in your specific situation. Through good guidance you will reconnect with each other and this way you will be better attuned to another.